Lab Handson: Mettere l' IoT in Cloud con FIWARE
Friday, 28 November  - 11:30 to 13:00
Massimo Vecchio, Attilio Broglio
WARNING: seats are limited, booking is required.
Questo Lab presenta come far convivere in maniera semplice internet delle cose e la cloud. Durante il Lab, usiamo FIWARE (http:///www.fiware.org), una piattaforma Open Source supportata da molte industrie europee. Nel Lab utilizziamo una serie di "cose" dalle ridotte capacità computazionali, dotate di sensori, attuatori, e una radio per la trasmissione a corto raggio. I dati raccolti dai sensori vengono passati a un controller/gateway, per poi essere opportunamente consumati e/o contestualizzati nella piattaforma FIWARE e che usa i dati per decidere come interagire con gli attuatori.
Language: Italian
Level: Beginner
Access to Labs is allowed to Codemotion Ticket holders.
Back to list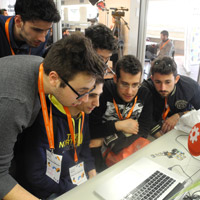 Back to list